Overcome diabetes with a personal companion
Vitadio is a mobile app to support self-management of type 2 diabetes.
Vitadio is a CE marked medical device
Compliant with GDPR and data protection law
Supported by clinical research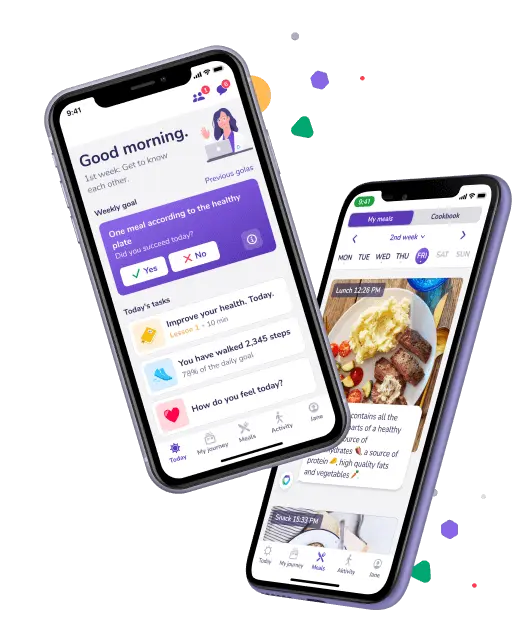 Support in your pocket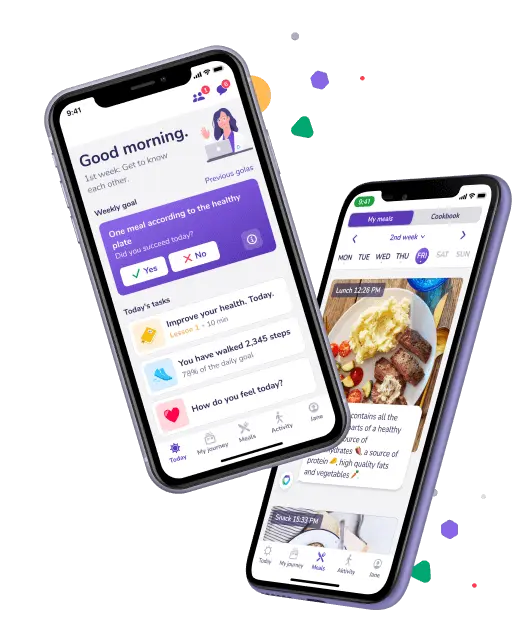 Learn to manage your diabetes and regain control of your health. The unique combination of technology and human contact helps to establish a healthy routine in your daily life. All conveniently available via a mobile app on your phone.
Take your health into your own hands
Knowledge in your pocket
Understand the effects of different activities on your health. Each week, the app reveals new educational lessons packed with the most important proven information. All simply and practically, complemented by helpful tips and hundreds of healthy recipes.
Progress under control
Keep track of your progress and daily routine: photo diary of meals, pedometer data, glucose measurements and weight trends. Of course, you can set your own target values and ranges. Everything clearly in one place available for you and your therapist.
Set your routine
Fit healthy habits into your daily routine. The app will guide you through each day with tasks that evolve as you progress through the program. Smart mini-cookies that you choose will also help you form habits.
Support always at hand
Contact your personal therapist anytime, anywhere. Our college-educated therapists treat each user individually and accompany them throughout the program. You can also find allies in the struggle among other users in the online community directly in the app.
Our partners

Health is for everybody
What is self-management?
Self-management includes all the activities that help you keep your diabetes under control. Whether it's measuring your glycaemia, maintaining a healthy weight, making healthy food choices, exercising, resting or looking after your mental health. And Vitadio can help you with all of these.
Is it worth it?
Achieving and maintaining a healthy body weight has been shown to improve blood sugar control.
Patients with diabetes can achieve significant reductions in glycated hemoglobin with the support of mobile apps.
Source: American Diabetes Association (2016), Timpel et al. (2020)
We received awards

Award for innovative technologies in diabetes

Winner of demo day 2019

The best startup in the Central and Eastern Europe

The best Czech solution in the field of digital content