How it works
Vitadio is your personal guide on the journey to a healthier lifestyle.
What can I expect on Vitadio?
Weight reduction and more energy
Decrease in blood sugar and glycated hemoglobin (HbA1c)
Less pills and lower risk of diabetes complications
Little changes that lead to big results
1. Enrollment
Enter the access code you received from one of our partners or from your GP. During the first week of the programme, Vitadio will learn more about your goals and habits and will find the best personal dietitian for you. He or she will get in touch with you in the second week via video call and will help you establish achievable goals.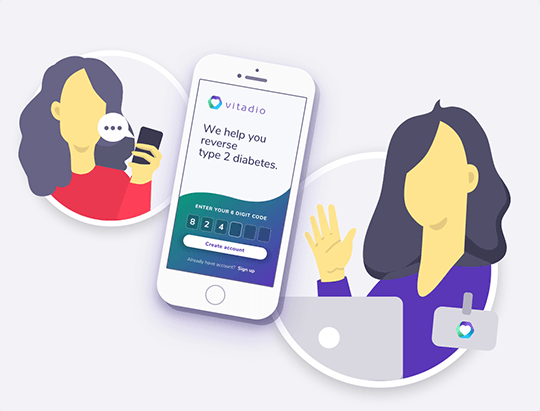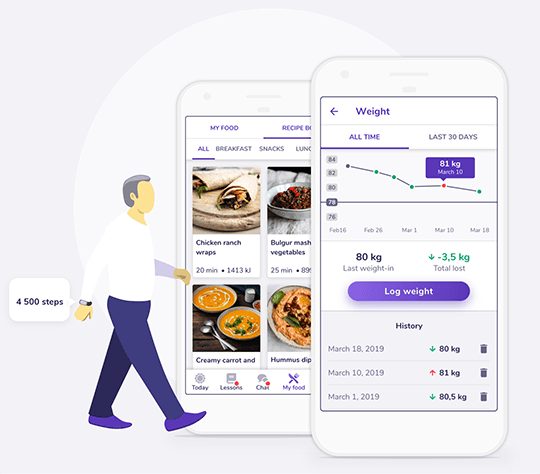 2. Intensive phase
In the 12-week personalized programme, Vitadio will support you in building new habits. Your personal dietitian will be available on chat and video, ready to offer advice and encouragement. The app will provide you with all the necessary information whenever you need it.
Personal dietitian
Personalized education
Tailored recipes
Interactive weekly goals
A photo log of meals
Steps and meal tracking
3. Sustain phase
After 3 months, you'll graduate to a 9-month sustain phase. This phase will help you strengthen your new habits and get confident in managing your lifestyle. The contents of the application will remain at your disposal. You can join your fellow graduates and your dietitian in a peer support group and share your tips and stories.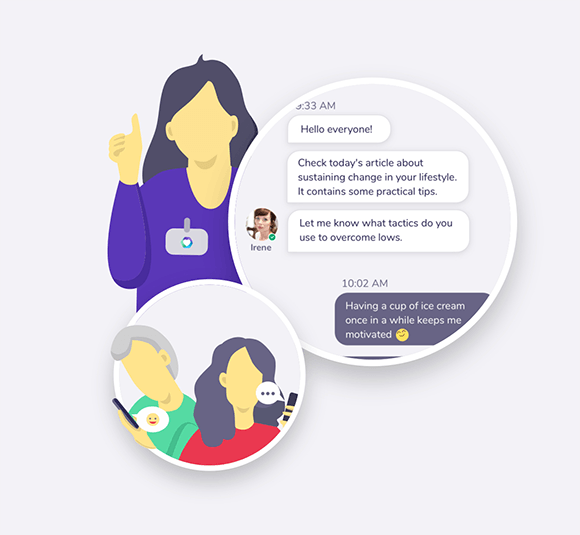 Contact us
Are you interested in hearing more?
What this programme has to offer?
Personal dietitian

Our registered dietitians have an individual approach to each of their clients and will make sure you build a lifestyle that you will enjoy.

Essential education

Thanks to our weekly lessons you will learn the basics and quickly become a pro in managing your lifestyle and your condition. Accessible anytime from your phone or computer

Your own path

After each lesson, we'll help you choose a new weekly goal that matches your plan and lifestyle. This will help you translate your new knowledge into an everyday habit.

Data at a glance

Meal photo log, daily number of steps, weight changes - all collected with minimum required input from you and stored in one place, accessible for you and your dietitian.

Community of peers

You can find understanding, seek encouragement or offer advice to fellow Vitadio graduates in a small online forum.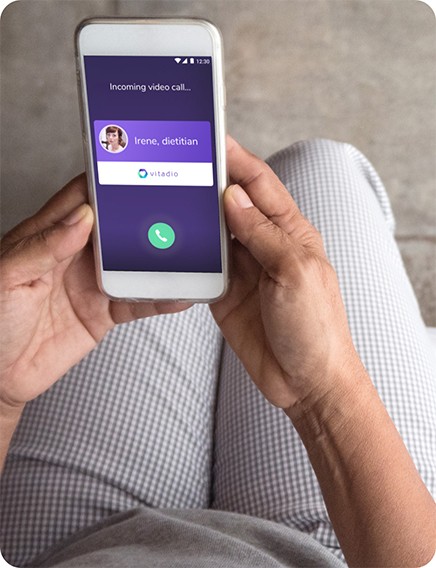 Top science and latest technologies at the service of your health
No more food diaries and calorie-counting
We're not at school, we're having fun! Vitadio aims for smooth user experience and reduces manual data entry as much as possible, saving your time and energy.
Connect anytime, anywhere
Access Vitadio from your computer, web browser on your mobile device or use our Android app. It's all online and well secured, ready for you whenever you have time.
Designed for long-term success
Losing weight fast isn't the hardest part - making it last is. Both our dietary advice and the length of our programme are designed by experts to make your new habits stick and be sustainable in the long-term.